HOME
GYM
NUTRITION
Marionne O.
"The Givars Effect pushed me to always keep myself in check and to always stay aligned with my goals. They really sparked that change in my mindset to keep going beyond my limits." - Marionne O.
Sheng C.
Out of breath, sore, and extremely sweaty! This was our 30 days with The Givars Effect! When we started seeing FAST results, our daily tasks from TGE became an addiction. -Sheng C.
Cody O.
"Cliche as it seems pero less eat ng unhealthy goods and more workout lang talaga! Parang spend less and save more lang. same lang din with getting fit. Salamat Coach Joseph and Coach GA!"
-Cody O.
Ria T.
"Accountability, reliable guidance, a listening ear, encouraging voice, a strong advocacy for a healthy lifestyle & mindset, and most importantly , a real, personal passion for transforming people. now."
-Ria T.
Redg D.
BP has now normalized btw. BP this morning was 123 / 74. So yipee! Thanks Coach @josephhguevara for developing this program. Coach @aaronhizon for the checking up on my progress."
-Redg D.
Elijah C.
"130 days since my first post; almost half a year into my fitness journey, 1 month alone and 4 months (and counting!) with The Givars Effect and my personal online fitness coach Joseph Guevara" -Elijah C.
Jaypee I.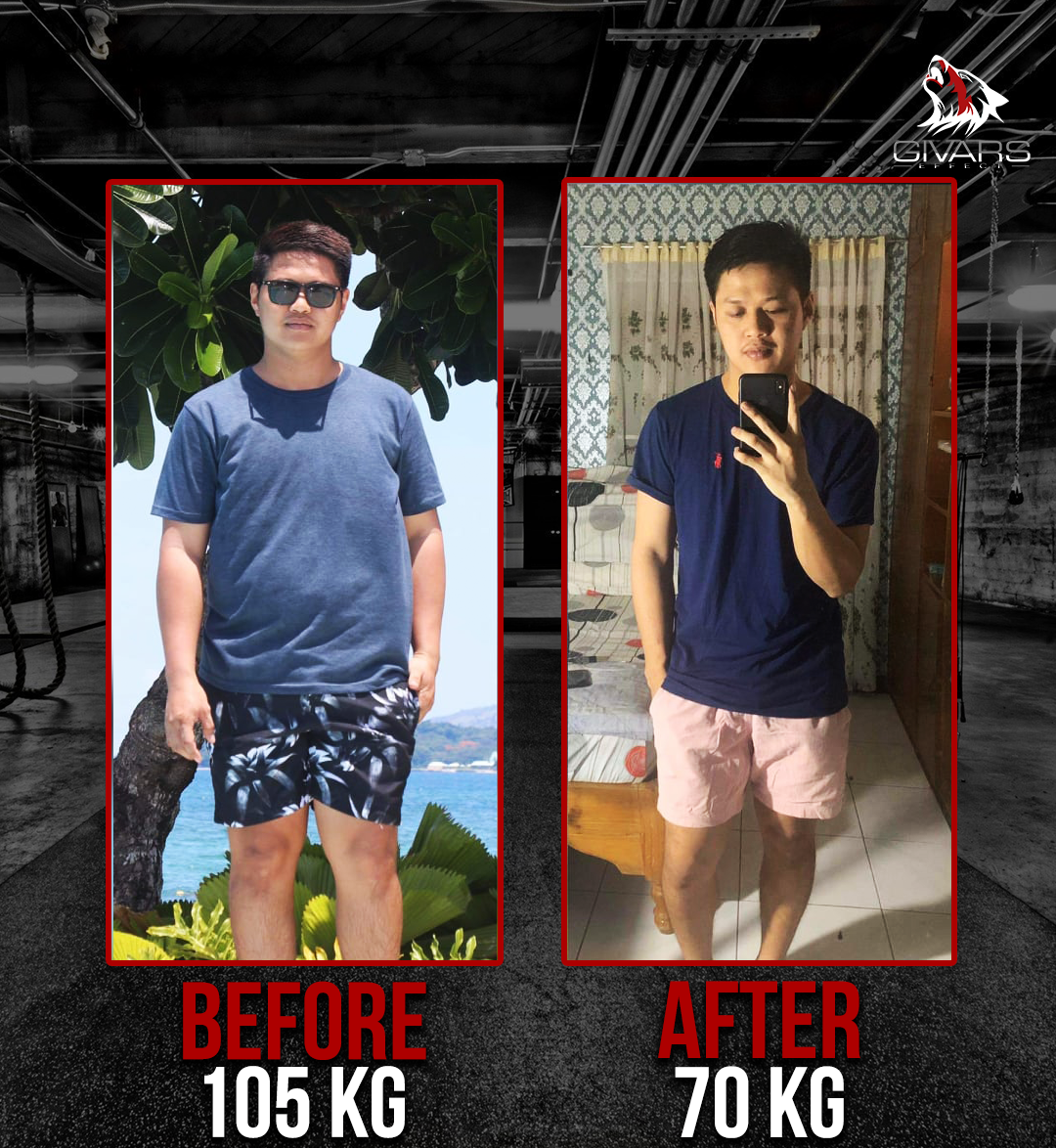 I enrolled at The Givars Effect under coach Joseph, he helped me throughout my journey, guided me with proper exercise and routine. I pursued my diet and now I feel great about myself and gain back my confidence.." -Jaypee I.
Brian P.
"I never thought that this day would come but sharing with you the fruit of hard work these past months! LOST 12kg or around 26.5 lbs! Thank you Givars Effect Team!"
-Brian P.
Tricia D.
"TGE has been a life changer! More than the weight loss, I am more grateful for the discipline they have instilled in me to live a healthy lifestyle. I have never felt this confident in years! Thank you, TGE! ❤️"
-Tricia D.
Maria L.
From 239 lbs to 226.6 lbs! Thank you for your guidance coach! Alam ko tulog ka pa pero I just wanted to express my deepest and sincerest gratitude towards you! Walang halong bola or bias, pero you're definitely one of the best coaches I've had! - Maria L.
Ashren E.
"Wouldn't have done this amazing transformation without The Givars Effect Online Training! The online nutrition plan and workout programs are highly recommended. Sobrang effective at walang katulad!" - Ashren E.
Unica A.
"The best decision I've made this 2020 is to start by inquiring and being persistent. Thank you @thegivarseffect team! For your "it's now or never" mantra and for creating a routine that I had never thought I could do. On to phase 8!" - Unica A.
Pat R.
"Can't live a month without doing your routines! Don't know what I'd do without it! It's challenging, fun and definitely my type of workout. Love communicating with the coaches! Thank you for changing my life and my confidence!" - Pat R.
Jill G.
"Credits to TGE for my healthy lifestyle change. No crash diet, weight loss products or calorie deficit meals. Achieved my weight loss the natural way. My motto is to practice healthy living now than forcing discipline when i'm 60+. Time to tone, coach!!" -Jill G.
Sean D.
"7 Months with The Givars Effect gave me a very good fitness training and learned so much for my health. I have gained muscle mass, dropped body fat, gained significant strength, improved my mobility and my self esteem. Workout plan was tough at times but fun most of the times." - Sean D.
Gener M.
"Thank you The Givars Effect for the first month of workout training. Lahat ng natutunan ko tinuloy-tuloy ko. From almost 75kg to 62.90kg. And look! Laki ng pinagbago! Thank you Coach!" - Gener M.